Preparation Time: 10 minutes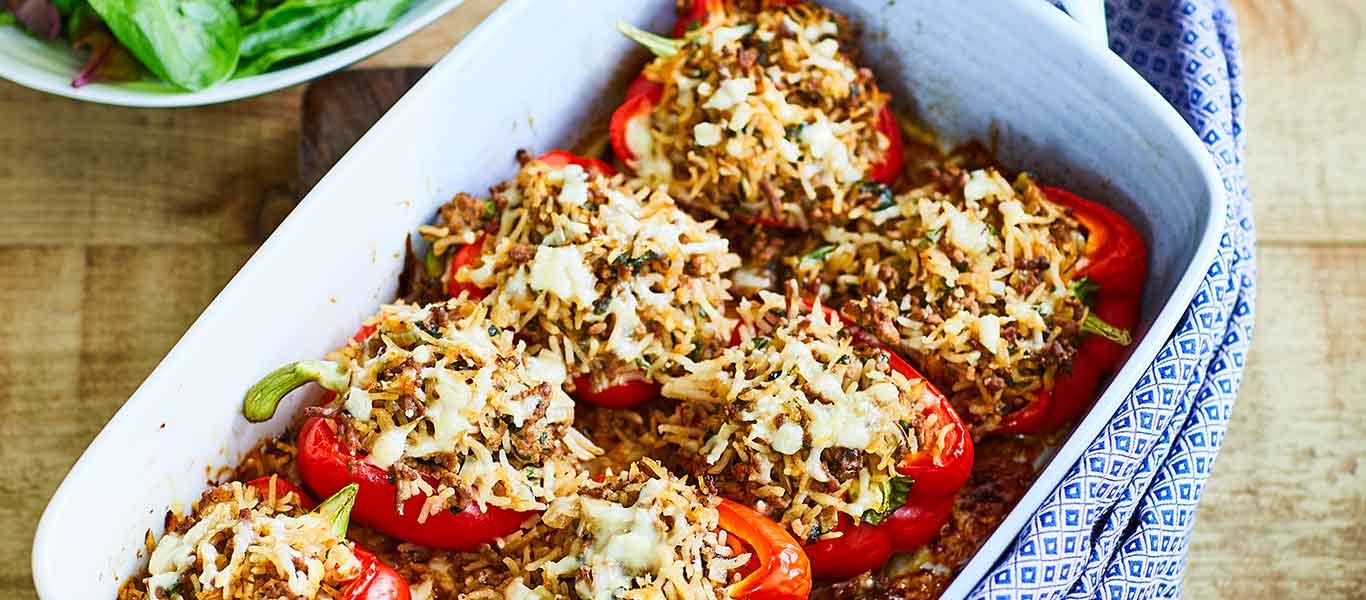 Ingredients
1 tsp olive oil

1 small onion, roughly chopped

200g beef mince

1 garlic clove, finely chopped

1 tsp tomato puree

½ tsp dried thyme

½ tsp chilli flakes

1 beef stock pot

200g cooked cooled basmati rice

3 tbsp flat leaf parsley, roughly chopped

sea salt

freshly ground black pepper

4 red peppers, halved top to bottom, and seeds removed

50g cheddar cheese, grated

1 bag green salad, to serve
Method
Preheat the oven to 200C/fan 180C/gas mark 6.

Heat a saute pan until medium hot, add the oil and onion and sweat for 2-3 minutes until softened.

Turn the heat up and add the mince and fry until just browned then stir in the garlic, tomato puree and dried thyme. Cook for 1 minute then add the beef stock pot and 400ml water.

Bring to the boil and simmer for 5 minutes. Add the rice and mix well then stir in the flat leaf parsley and season with salt and black pepper.

Lay the peppers cut side up onto a baking tray. Divide the mixture between the peppers, packing the mixture in lightly and scatter the cheese over the top. Cover with foil and bake in the oven for 25 minutes until tender.

Serve with green salad.